Ok, so for y'all out there who don't speak French and are wondering what a brevet is, it's just a different type of bike ride. Generally it's characterized by longer distances usually 200 kilometers, (or 125 miles) or more, and sometimes a lot more!
You have a time limit to complete the ride and you have to check in at control points along the way to verify you completed the course.
When Vicky first started talking of joining the Lone Star Randonneurs and riding brevets and such, it sounded like a really fun group of people and a fun new type of ride.
I'd no idea at the time just what I was getting myself into.
Imagine a group of people whose idea of a really good time is 20+ hours on a bicycle saddle for 250 or more miles, and I thought I was crazy, I'd not seen crazy till Saturday.
I'd also not met a much nicer group of people either.
Here I was, well out of my pay grade getting together to start a ride with folks who were riding 350-400 miles or more a week.
There was a huge amount of experience and information regarding long distance riding contained in that group.
And what was great for me, they were more than willing to share that information and help me out.
The group at the start...
The ride was the Fleas and Trees brevet out of Canton Texas.
The ride is named for the Third Monday Trade Days flea market held in Canton and the huge number of trees along the route.
About 6-7 of us chose to do the 200 kilometer route with the rest opting for the 400 kilometer ride and a trip to Louisiana.
One the road to Gilmer.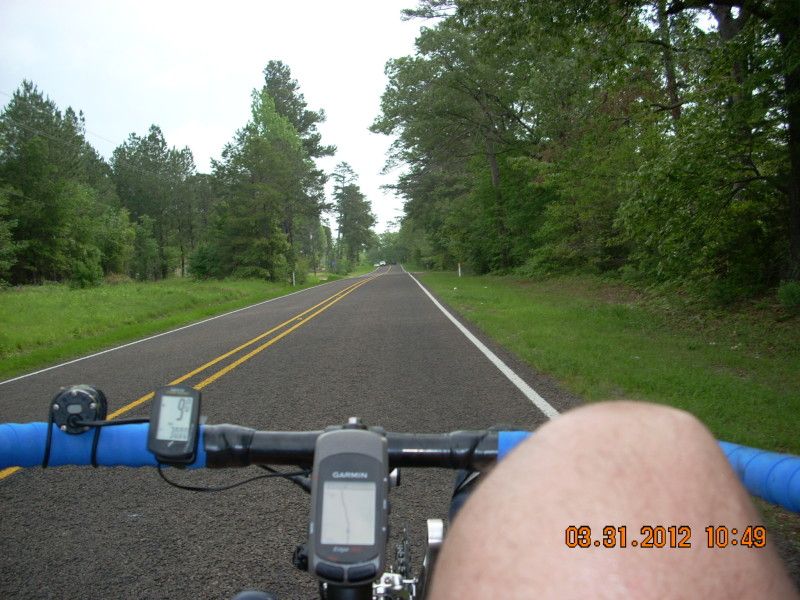 A really nice shade tree to pump up a tire under!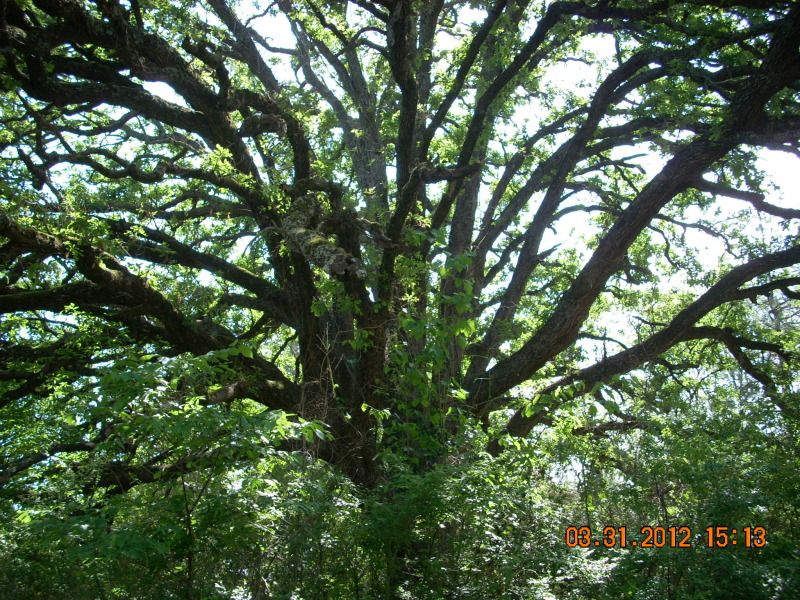 The route itself was fantastic, it was classic east Texas with wonderful springtime weather.
Myself and another rider did hear a rumble or two of thunder but no rain developed for us fortunately.
I discovered that east Texas is not at all like around were my family and I live.
East Texas has hills!
Some of them even are pretty nice sized hills at that.
I remember looking up at an upcoming climb at one point and thinking how much that was going to hurt going up.
As I was starting down
a rather large hill I decided if I was going to hurt climbing up the next hill, I may as well enjoy the trip down.
Time to jam onto my big ring and see just how fast I can make my bike go, (I managed to break 41 mph, I guess next time I need a bigger hill as I want to break my best on a bike of 55 mph).
As this ride was a couple of firsts for me it was a huge learning experience.
This was not only my first brevet I'd ever tried, but it proved to be the longest ride I'd ever done.
It was also the second century ride I'd done since getting back on the bike and into shape.
The lessons and take aways from this ride:
·
Meeting and making new friends on the road.
This was a huge plus for me and a huge thank you to Michele for talking me through the ride,
and to the guys from Trinity Bicycles for finding what was causing my flat tire issues.
You all were great!
·
When there is a flat tire, take the time to hunt down the root cause of the problem and fix it right the first time.
Having flat tire issues from mile 25 to mile 109 was a bit of a problem.
The I hate my tire face..
·
Don't let issues take you off your nutrition / hydration plan.
I let my flat tire issue get me off the nutrition
and hydration plan and paid for it on the return trip to Mineola.
I ate at the turn around in Gilmer, (mile 62) and didn't eat again till Mineola, (mile 99).
As a diabetic, that is a recipe for failure.
Although after looking at it and doing the math I now realize I averaged about 300 calories per hour, it just wasn't spaced out like I had intended it to be.
Hydration was the other big issue.
I'd refilled my bottles and Camelbak at the turn around in Gilmer.
About five miles out from Mineola I ran dry.
As it gets warmer, I'm going to need to carry more water in areas where towns are widely spaced apart.
·
Speaking as a type II diabetic, yes you can do endurance type events on a diet of mini Clif bars, Clif Shot Roks, Lance wheat and cheese crackers, Fig Netwons, natural peanut butter, Oreo Cakesters, (I know, but they looked tasty!) and Gatoraid.
Oh and the big bag of M&M's at the finish was a bonus!
·
I have to pack my seat bag better and come up with a system that when I need item "X", I can reach in and put my hand on item "X".
·
You don't have to be a hammerhead on every ride!
Sit back, enjoy the company, scenery, and the ride.
And don't forget to take more pictures!
·
The last big take away from this ride...
Make sure you don't accidently hit the stop button on your Garmin bike computer when changing flats.
As much as you wished it would have, it didn't record any data from mile 25 to mile 63.
Of course the next question is what's next?
Proving to myself I can go 125 miles now has me looking once more toward hitting that goal I set all the way back in October of 1988 of a double century, 200 miles all in a day.
That goal had better watch out, this fat old diabetic is sneaking up on it!