Ok, this is one I've been meaning to write for a while, not quite 7 years though.
I picked this bike up slightly used off Craigslist a couple of months ago to upgrade my commuter bike and to hand my previous commuter bike, a Giant OCR-2 down to my oldest daughter who has grown enough to fit it.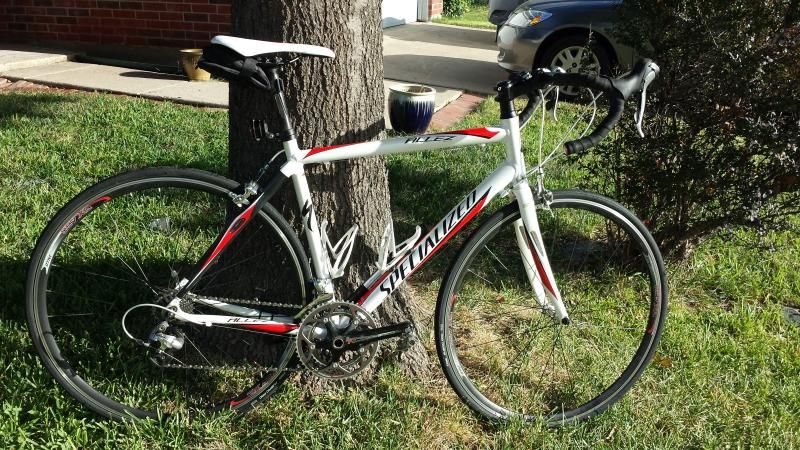 The Allez is a good upgrade for me over the Giant as it is lighter and quicker. It's design is more race specific which suits my riding style and personality better than the Giant did.
The Allez Elite features the Zertz inserts in the carbon fork and the carbon seat stays that are found on the Specialized Roubaix series of bikes. This is supposedly to damp out road vibration and road shock, but the engineer in me would like to see some of the data behind this. That said however the bike does ride nice and smooth on our local Texas roads.
I've done an upgrade or two, some required, some just because I had the spare parts laying around. The tires got replaced with Vittoria Roubaix tires after a cut destroyed the rear tire, the saddle was replaced with a Selle Italia SL as the old one was destroyed in a crash, and the cranks were replaced cause I had a set of carbon cranks laying around.
Most of my riding on the Allez is admittedly in town on my work commute. I've only taken it out a couple of times into the county on longer rides where the frame design seemed to eat up the chip seal they use on the roads around here.
The quirks that I've noticed about the Allez is that it's a little more twitchy due to the race specific geometry, riding with no hands is a little more difficult due to this.Were this going to be my long distance bike, this would be an issue, as it's my commuter, it's really no big deal.
Don't worry though about this being decked out in full commuter rig however, I've not put fenders on it nor do I have plans to. When water falls from the sky around here, traffic gets more than a little sporty. On those days, I drive rather than take my chances of becoming a hood ornament.
I do run front and rear lights on it however, (of course I consider lights as essential safety gear). I run a
Dinotte 300R
tail light and a
Dinotte 1200L
front light. I believe in being seen and brighter is better when it comes to light. That's why I run lights that some people complain about as being "too bright". I'd rather have someone say that my lights are too bright than be laying under Suzy Soccer Mom's SUV having her tell my wife, "I didn't see him".
For carrying stuff, I use a
Camelbak Mule
. This gives me enough cargo capacity to carry my belt/pocket gear as well as my lunch. My crash the other day had me finding another use to my Camelbak. It make an excellent skid plate and bore the brunt my my crash. The only major damage was that a strap managed to burn through the buckle.
Overall, I'm very pleased with the Allez. It rides great, accelerates quickly, is snappy handling, fast enough to allow me to chase Strava segments.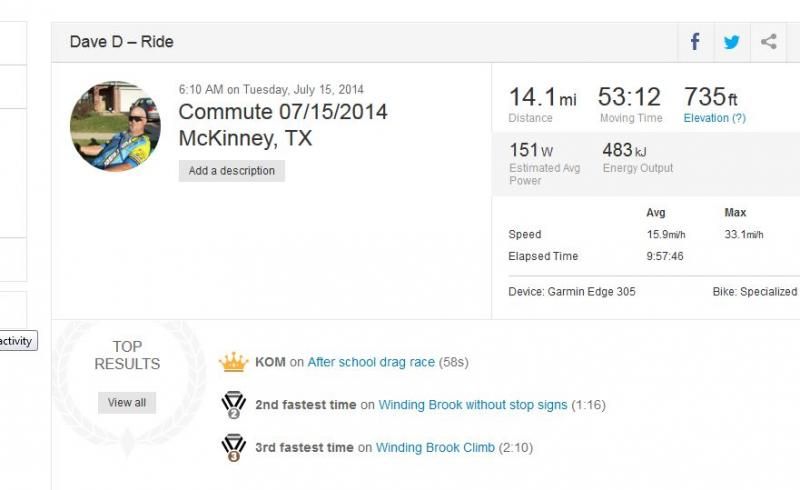 Plus it gets me to work a lot cheaper than driving.