Well this ride is in the books. The HHH is a ride that I always look forward to as it is an event that needs to be experienced if you are a bike junkie. Something about 15,000 some odd riders tends to lend an air of adrenaline and excitement to the ride. I'd sent Vicky up last year for her first Hotter than Hell and she had a blast, ending up with one of her best times ever for the 100K, (62 mile) ride.
The HHH is a true weekend event with everything going on. I'd went up early on Friday so I could hit the bike expo set up at the Kay Yeager center. I mainly went up to see what deals were available on some bike bits and pieces I was after. Ended up leaving with a new set of tires for the bike, a different flavor of electrolyte replacement, four new Camelbak Podium Ice bottles, a hat for me and a treat for my wife who was home wrangling kids and dogs. I also spent some time talking to other riders and some of the factory representatives who showed up, I got some good information on tandem tires for our Seavo tandem, found what I am looking for in a pair of bike gloves, (Specialized Grail, not available yet), met several nice folks wandering around in Bike Across Kansas shirts, and generally had a blast.
My overnight was in Lawton OK due to everything in the Wichita Falls area being sold out. I'd initially cheaped out on the motel room and made reservations at Super 8, but after reading reviews of the motel about two weeks before the ride and seeing the news of the homicide in the parking lot, the drug deals, and "working girls" I decided I need to change motels. Fortunately Vicky found me space at La Quinta.
I had missed my normal, arrive three hours early to the ride and barely made the start. Traffic, parking, and waiting in line for the bathroom had me getting to the starting cage, (recumbents & tandems start in the front) right as everyone was rolling down the road. So I had this frantic moment of getting everything stuffed in the appropriate bags, getting my sun sleeves on, starting the GPS and jumping into the herd.
My slightly late start worked out well however as I was able to get rolling and up to speed fairly quickly. Since I was riding solo my plan was to keep my eyes open for groups and pace lines running a comfortable pace. Shortly after the start I got my wish, a four tandem pace line came by and I latched on the back. At times we were rolling 25 to 28 mph into the early morning breeze. I was having a blast rolling on by, waving and talking to the other riders.
At one point I glanced up the road and I spotted the holy grail of my bike wish list.
A Quest Velomobile. As I rolled up on him, I had to ask if I caught it could I keep it. Sadly Dan is very happy in his velo and not ready to give it up yet, it's one nice ride however.
I spotted another velo ahead just as the group I was with started a long shallow downhill. I cranked on my shifter to hit the big ring, promptly overshifted throwing the chain to the outside where it bound up and jammed tight. Opps. A quick pull over as everyone I had just passed flew on my, yanked and cranked on the chain, got it fixed and back on the road. I had to work like a dog to bridge back up to the group, once I caught up though, the other velo was long gone.
Rest stop 2, 4, and 6, (Hell's Gate) were all visited. We made Hell's Gate, (the 100 mile cut off) with about 2.5 hours to spare. I was able to manage my SAG stops well, hit the portables, grab food and water and go. Rest stop 8 was at about mile 74 and from there on it was into the wind, by that point the wind had came up and was hitting about 17-20 mph on a steady basis.
I'd last checked my average at rest stop 4 and new I was running fast, at that point I was at a 21.3 mph average, (way fast for me). I stopped checking the average after that as I didn't want to jinx myself.
I was hoping for some good pacelines and groups for the into the wind segment of the HHH but the wind was to strong and was breaking the groups up and causing things to get squirrely. I ended up just slouching down in the seat to get as aero as I could and gutting out the last 26 miles with as much speed as I could.
At mile 98 I rolled over a small hill to find a nice downhill, I was more than happy at the time to ease off the pedals and coast a bit. This proved to be a mistake however, as soon as I eased off the pedals, both hamstrings cramped tight and locked up. I had no opportunity to pull over and that close to the finish I was NOT going to cramp out. Unfortunately I resorted to "Marine Corps" language. I think that tirade is going to be lingering on that downhill for years. As I'd just passed and "Semper Fi'd" a guy in a Marine Corps jersey before the cramps happened he heard me and was laughing his butt off. He pulled up alongside and said, "let me guess, infantry right, nobody else can swear like that.." We both had a good laugh as by that point the cramps had ran away scared.
Mile 99.5 had me checking my average speed to discover that I was running a 20.0 mph average! A sub five hour century was in my reach! I was stoked and wanted to record the event for posterity. I fumbled my phone out of my bag, was trying to unlock it, pull up instagram, and still ride. As I was doing that, I hit the last uphill and my speed fell. I watched my computer slip from 20.0 mph to 19.9 mph. So close, my official 100 mile time was 5:00:36. However the last stretch was sheltered from the wind and over some fast roads, I was able to ramp up my speed and finish the 101 miles and change with a 20 mph average according to my Garmin.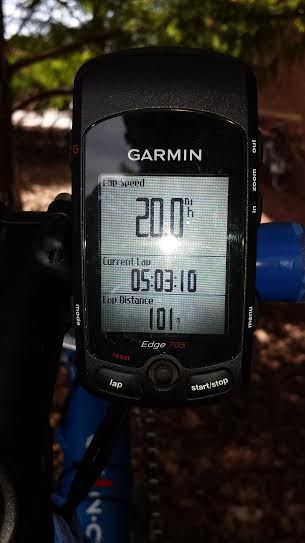 Overall, I was pretty happy. I'd not turned a Century that fast in 25 years. Not to bad for a diabetic former fat guy.