So I had the not so bright idea yesterday that I wanted to up my mileage a bit on my weekend ride. It was mainly to see how ready I was to start looking at some brevets, (200 Km/120 Mile) rides with the Lone Star Randonneurs. I should have listened to my body and realized that after the week I had at work, (lots of heavy lifting), and my mid week workouts which included an 8.5 mile run on Thursday, I wasn't ready for a long ride. My first clue should have been my blood sugar reading in the morning, I was a 141 which for me currently is 20 points higher than normal. However, me being me, nope I had to do it anyway.
Here is a link to the ride courtesy of the Garmin Edge 305,
LINK
. I figured out the course/route feature and played a bit with it on this ride. I think it is going to work for us and help Vicky and I navigate unfamiliar roads. I'm really hoping it keeps us from accumulating lots of bonus miles on rides and ending up in "Pedal faster I hear banjos" parts of the country.
The day was just a little on the chilly side, (I know, I'm spoiled by Texas winters), and a light 5-12 mph North wind. I'd started out in arm warmers, leg warmers, and a new
Pearl Izumi Thermal Barrier vest
, (scored off Ebay for cheap!), a jersey and shorts. Opps, that was a mistake, I'd no sooner gotten down the block from the house before I realized I wanted a jacket over the top of everything. A quick pit stop for the jacket and I was off to the wilds of the county.
Following my now normal route north had me hit all the usual spots on the route, the triple bypass of nasty steep little hills, the creek bottom for a quick nature break where I smacked my knee into the backside of guard rail hard enough to make me say a few unkind things, the road out of Weston where I finally spotted the no bicycle sign at the Anna city limit sign, (hmm, it says no upright bicycles, I'm on a recumbent!)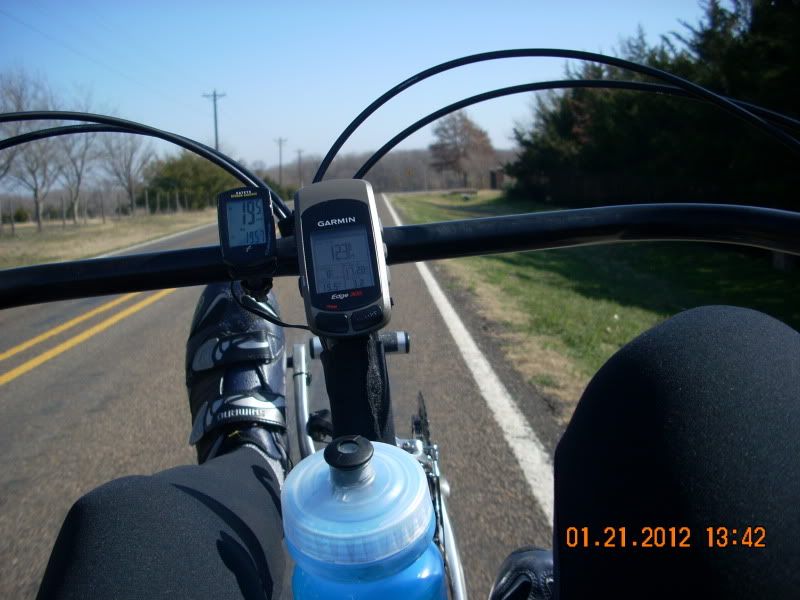 I might just have to see if I can map out a workaround on that little section. I did the slow grind up CR 3356 to FM121 and chewed on the headwind the whole way. At Gunter I figured I'd run North on Hwy 289 and pick up my bonus miles. A quick bit of math and I came up with nine more miles of headwind and I would have my 75 miles when I got home. Those were some of the longest nine miles I've done. The headwind was just kicking my butt big time, I member crawling up a hill at 5.8 mph thinking I can walk faster, it was not pretty.
I hit my turn around point and pointed it south and enjoyed the tailwind!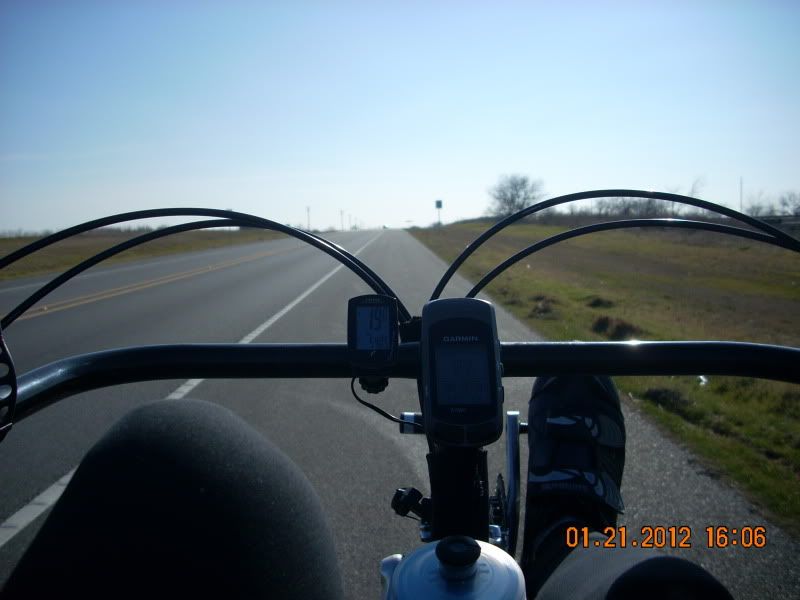 HWY 289 in that area is a fantastic road, it has a wide paved shoulder that is nice and smooth, (until you hit Collin county where it devolves to rough chip and seal). I made good time to the Collin county line where the wind died and I hit the chip and seal which both conspired to slow me down. By that point I was running on nothing but sheer stubbornness and stupidity to get home with my 75 miles. CR 88 to Meyers Park, to Lake Forest, (and that danged hill before Virginia St) and home.
A note about my on the bike nutrition. Again, this ride was an experiment in nutrition and calorie replacement while I was on the bike. I had one water bottle of full strength Gatoraid, three packages of
Clif Shot Rocs
, a couple of Fig Newton bars, and some
Clif Bar Minis
. Overall, I consumed 1040 calories, two packages of the Rocs, two packages of the Fig Newton bars, and a Clif Mini. While I realize I was once again, light on my calorie replacement something was combining in my gut to produce some "unpleasantness". Let's just say I was producing enough methane to solve our energy problem and leave it at that.. I am not sure what was causing the issue however, it may have been the Levaquin and Flagyl I was on to clear up the diverticulitis, may have been something I ate the day before, but I think it was something I ate or drank while on the bike as this was a repeat performance from last week, (just a lot worse). I guess more experiments are in order.
And to end on a good note, my headset issue is now fixed! Monday nights ride had it coming loose again, more reading, research and a stop by the nice folks at Plano Cycling and Fitness for a $5.99 part, and it is FIXED.